Como funciona : Em Aura existe uma area de mineração no qual é se encontra o teleport no terceiro andar do templo de Armia, possuindo um fácil acesso.
Como minerar : Para minerar você tem que comprar a uma Pick com o Hugo the Miner falando trade com ele. Após comprar a sua Pick você precisa pedir a permissão do velho ganancioso Dwarf que cobra 100 crystal coins por 24 horas, e lhe permite utilizar o seu vagão.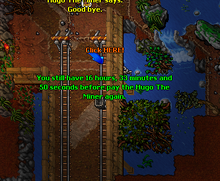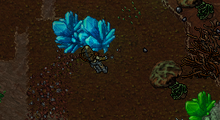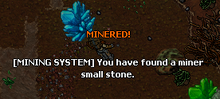 Após usar o vagão, basta utilizar sua pick em um dos cristais que ficam dentro da mina.
Conforme você vai minerando, vai subindo de level em mineração e a cada level, os itens que você consegue minerar melhoram. Você pode trocar e vender todos os itens que minera para para/com o velho ganancioso Dwarf Hugo The Miner.